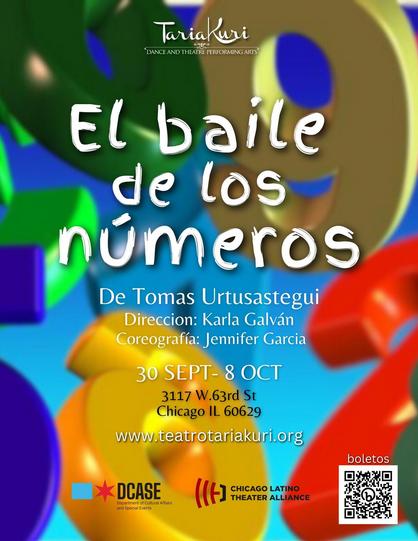 Comedia/ familiar
Temporada 30 SEPT – 8 OCT 2023
Playwright: Tomas Urtusastegui
Director: Karla Galvan
Choreography : Jennifer Garcia
Synopsis [English]: "A witch wants to get rid of all numbers, but has a change of heart when she learns that math is a beautiful subject"
Synopsis [Spanish] :Una bruja trata de demonstrar lo horrible que son las matemáticas los numberos. Acaba por reconocer que estos son bellos.
Genre: Comedy/Musical/ Familiar
Running time: estimated 60min
Language: Spanish with English super titles
Age: All ages
Premiere status: World Premiere
Venue: Teatro Tariakuri 3117 w. 63rd street Chicago IL 60629
Dates: From Saturday Sep 30th (DESTINOS Opening) through Sunday, Oct 8th: Sat/Sun
Saturdays and Sunday  performance: 3pm
Ticket cost: $25
***This production is part of Destinos: 6th Chicago International Latino Theater Festival.
For more information and the full line up of the festival visit www.clata.org****
REFUND/COVID POLICY:
DUE TO SEAT LIMIT ALL TICKET SALES ARE FINAL, AND UNFORTUNATELY WILL NOT BE ABLE TO REFUNDED OR EXCHANGE.
We ask that patrons arrive 15min before the house is open. Late seating is not allowed after the last call.
Pedimos que los clientes lleguen 15 minutos antes de que se abra la casa. No se permitira entrada tarde después de la última llamada.