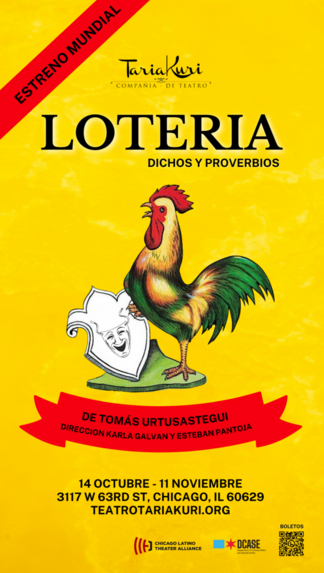 Lotería: Dichos, Proverbios, Albures – Teatro Tariakuri – World Premiere
Comedia
Temporada 14 OCT – 11 NOV 2023
Written by: Tomas Urtusastegui
Directed by: Karla Galvan
Co-Directed by: Esteban Pantoja
Opening Saturday, October 14 at 7:30pm
Runs through November 11: Saturdays at 7:00pm ; Sundays at 6pm.
Location: Teatro Tariakuri. 3117 W. 63rd St. Chicago, IL. 60629
About the play: We all know about the Mexican Lottery, and now Teatro Tariakuri will bring the excitement to the stage! Instead of there being figures such as the ladder, the policeman or death, the game is played using proverbs in this hilarious interactive comedy!
Se juega a la lotería solo que en lugar de existir figuras como la escalera, el policía, la muerte, aquí se usan dichos y refranes los que se deben adivinar después de escenificar cada uno de ellos. El público puede jugar con dinero. Todos son vistos desde el humor.
Language/Subtitles:Performed in Spanish with English subtitles
About Company:Please include a 5-line description about Teatro Tariakuri
Teatro Tariakuri, artes escénicas de danza y teatro (TTPA) es una organización artística comunitaria sin fines de lucro establecida en Chicago en 2004 para ofrecer a los niños y adultos de Chicago Marquette y las comunidades circundantes acceso asequible a una variedad de clases de artes escénicas y oportunidades de capacitación artística profesional. Ofrecemos cursos de danza, teatro y música bilingües / biculturales para todos.
Genre: Comedy
Running time: 60min
Age: 18+
Credits:
CAST (With Headshots)
Manuel Duarte, Benjamin Gaspar, Nancy Mata, Victor Millari, Abraham Villava, Manny Casique, Patricia Galvan
PRODUCTION TEAM
Nicolas Raigoza, Ben Galicia, Xochitl Raigoza, Nancy Mata
Karla Galvan director, Esteban Pantoja co artistic director
Ticket Price: $30 General
-Estacionamiento /parking: Publico/ Public
-Debido al límite de espacio, no ofreceremos reembolsos ni cambios. Todas las ventas de entradas son definitivas
***This production is part of Destinos: 6th Chicago International Latino Theater Festival.
For more information and the full line up of the festival visit www.clata.org****
*Todas las ventas son finales*
DEBIDO AL LÍMITE DE ASIENTOS, TODAS LAS VENTAS DE ENTRADAS SON FINALES Y, Desafortunadamente, NO SERÁN REEMBOLSADAS NI CAMBIADAS.
Pedimos que los clientes lleguen 15 minutos antes de que se abra la casa. No se permitira entrada tarde después de la última llamada.
REFUND policy:
*All SALES ARE FINAL*
DUE TO SEAT LIMIT ALL TICKET SALES ARE FINAL, AND UNFORTUNATLY WILL NOT BE REFUNDED OR EXCHANGED.
We ask that patrons arrive 15min before the house is open. Late seating is not allowed after the last call.
Please note: We will not have a performance on Oct 21 2023 due to a prior engament with Arts in the dark.